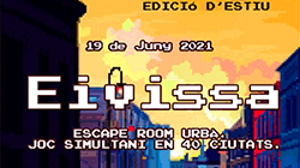 The City Council of the city of Ibiza participates, the next 19 June, en Survival Human, an interactive activity in which participants are challenged to 40 towns in Spain.
With this activity the Vila Jove Nit program that has been developed in the C-19 during this school year closes. For this reason, have been acquired 100 codes that will be distributed among the associations that participate in this program, Dragons of Ibiza, the OTAKU Association, the volunteers of the Erasmus program + and the users of the C-19 center.
Survival Human It is the largest Scape Room ever held, that will take place between 12 and the 20 hours in each of the participating cities. Players will be able to participate within these hours, overcoming the tests set by the game that will always be in open spaces in cities. Participants will tour the outside of their town to take a tour and game design, choosing the most open places, emblematic of the city. A totally personalized route for each location.
The game is shaping up to be a challenge in which participants will travel on average 16 kilometers and they will face 40 puzzles and locations in a total of 8 hrs.. During the game there will be actors and actresses, but you can only interact digitally.
There is more of 100 Gift packages and some main prizes to raffle among all the players who manage to solve the whole plot and interact with the actors. Out of the 100 winners, 5 They will be able to enjoy the experience of a helicopter flight and the rest can win the entry for the next edition or some object of the meeting.
Do you want to know the Ibiza culture and leisure agenda?
Ibiza-Click.com
IBIZA'S MOST VISITED CULTURE AND LEISURE SITE
The City Council of the city of Ibiza participates, the next 19 June, en Survival Human, an interactive activity in which participants are challenged to 40 localities…