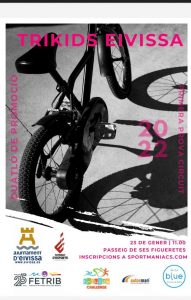 Cinema listings 23 in January of 2022 on Cinema listings, Cinema listings, Cinema listings.
El Trikids Challenge Eivissa es una prueba de duatlón federada con carácter lúdico que consta de una carrera a pie, una carrera en bicicleta y, de nuevo, una carrera a pie.
La prueba se celebra en la plaza Julià Verdera de Figueretes, at 11 horas de la mañana para las categorías baby y pre benjamín y a las 12 horas para el resto de categorías.
Cada categoría debe completar diferentes distancias en cada una de las modalidades:
-Baby: 100 metros a pie, 250 metros en bicicleta y 100 metros de carrera.
-Pre-Benjamín: 250 m – 400m – 150m
-Benjamin: 500m – 1.500m – 250 m
-FRY: 1.000m – 3.500m – 500m
-Child: 2.000m – 6.000m – 1.000m
-Cadet: 2.500m – 10.000m – 1.200m
Las inscripciones pueden realizarse en la web de sportmaniacs.com.
Cinema listings
Sunday 23 in January of 2022
11 horas categorías Baby y Pre Benjamín; 12 horas resto de categorías
Plaza Julià Verdera, Figueretes, Ibiza
Do you want to know the Ibiza culture and leisure agenda?
Ibiza-Click.com
IBIZA'S MOST VISITED CULTURE AND LEISURE SITE
Cinema listings 23 in January of 2022 el Trikids Challenge Eivissa, Cinema listings, que organiza…