VII DAVE ON MY MIND IN SANT JOSEP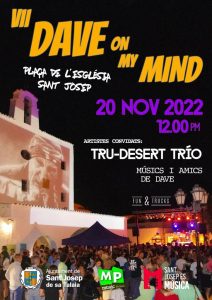 The City Council of Sant Josep de sa Talaia and MP Music Eivissa organize the seventh edition of the Dave on my Mind festival, a tribute to the long-awaited bluesman Dave Jeffs, which will feature a concert by the Tru-Desert Trio.
Sant Josep resumes the Dave on my Mind festival, after the break during the pandemic, a tribute to musician Dave Jeffs (Oxford, 1945 – Ibiza, 2013). Better known on the island as Blues Dave, this singer, British harmonica player and guitarist arrived on the island at the end of the 70 and was established in the municipality of Sant Josep, becoming a much-loved character who was also the teacher of many young artists, whom he introduced to the world of rock and roll and blues.
The seventh edition of Dave on my Mind is held on Sunday 20 November of 2022 in the Sant Josep square in front of the Church and, for the first time, is celebrated during the day, starting at 12.00 hours and lasting until 18.00 hours approximately, although the appointment will end when the participating musicians estimate it.
The highlight of the event is the performance of the rockabilly group, rock and roll y country Tru-Desert Trío, a band from Almería and formed by Pike Cavalero (lead vocals and rhythm guitar), Mario Cobo (electric guitar and vocals) and Pepe Lee (double bass and choirs).
Pike Cavalero, from Madrid who lives in Cartagena, is a reference musician in the homeland rockabilly scene., with several albums published, both solo and in bands like The Gentle Bandoleros and its sound studio is a reference in Andalusia. The musician, Catalan composer and producer based in Almería Mario Cobo has been a soloist in bands such as Los Mambo Jambo, Nu-Niles, Kim Lenz or Loquillo and has formed part of myriad great groups, like those who accompany Sonny Burgess and Dj Fontana (elvis presley drummer). On the other hand, Pepe Lee is one of the most famous double bass players in the rockabilly scene and has played at festivals all over the world..
After the Tru-Desert Trío concert there will be a Jam Session with the participation of numerous musicians from Ibiza and friends of Dave Jeffs such as Bluesmàfia i es Saligardos, The Metralla, Albert Oliva Blues Trio, Pere Verges, The New Young Polaks, Heritage and many more.
En el VII Dave on my Mind, organized by the Sant Josep Town Hall and MP Music Eivissa, there will also be various food trucks.
VII Dave on my Mind
Tru-Desert Trio concert
Sunday 20 November of 2022
Starting from the 12:00 hrs.
San Jose
Do you want to know the Ibiza culture and leisure agenda?
Ibiza-Click.com
IBIZA'S MOST VISITED CULTURE AND LEISURE SITE
The City Council of Sant Josep de sa Talaia and MP Music Eivissa organize the seventh edition of the Dave on my Mind festival, a tribute to the long-awaited bluesman Dave Jeffs, What…