VILLA TOUMA IN CAN JERONI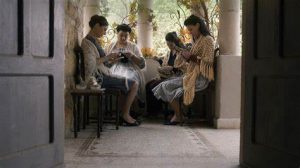 A Palestinian proposal, Villa Touma, for the Friday film series of 8 January. Its director, Suha Arraf, debuta con esta cinta claustrofóbica. Un drama familiar que narra como, anchored, missing; many years locked at home, caught in his web. They are the three aunts of the protagonist, a young woman just out of the orphanage, that seem to come alive at the arrival of his niece; like vampires fresh from the sarcophagus.
Villa Touma tells us how three sisters from Ramallah, aristocratic and single, they have not been able to assimilate the new reality of the occupation and mass emigration of the Palestinian aristocracy. To survive, they lock themselves in their mansion clinging to nostalgia for their past glories. The arrival of their orphaned niece changes everything in their lives
Friday Film Series
Villa Touma
Friday, 8 January
20:00 hrs.
Can Jeroni Cultural Center
Sant Josep de sa Talaia
Free entrance until full capacity
Due to curfew, punctuality is requested.
Do you want to know the Ibiza culture and leisure agenda?
Ibiza-Click.com
IBIZA'S MOST VISITED CULTURE AND LEISURE SITE
A Palestinian proposal, Villa Touma, for the Friday film series of 8 January. Its director, Suha Arraf, debuta con esta cinta claustrofóbica. Un drama familiar que narra como,…