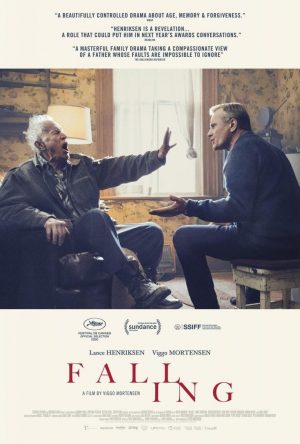 Falling is a family drama directed by Viggo Mortensen that is screened on the day 23 April at Can Jeroni the Friday cinema cycle. A Canada-UK-Denmark co-production tackling senile dementia sensitively and intelligently.
Falling tells us how John Petersen (Viggo Mortensen) she lives with her boyfriend Eric (Terry Chen) and their adopted daughter in Southern California. His father Willis (Lance Henriksen) a traditional and conservative farmer from 80 years, decides to travel to Los Angeles and stay at John's house while looking for the perfect place to retire. Once all together, two very different worlds collide. Willis shows signs of losing his sanity, and his peculiar way of being, as fun as it is harmful to some family members, brings out wounds from the past and years of mistrust among those close to you.
Friday Film Series
Falling
Friday, 23 April of 2021
20:00 hrs.
Cultural Center Can Jeroni
Sant Josep de sa Talaia
Entries in: entrades.santjosep.org
Free entry until complete seats
Do you want to know the Ibiza culture and leisure agenda?
Ibiza-Click.com
The culture and Ibiza most visited entertainment portal
Falling es un drama familiar dirigido por Viggo Mortensen que se proyecta el día 23 April at Can Jeroni the Friday cinema cycle. Una co-production Canadá-Reino Unido-Dinamarca que…