FESTIVAL JAZZ POINT IBIZA 2021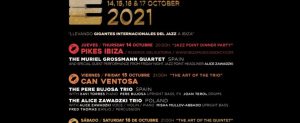 The 2nd International Festival Jazz Point Ibiza takes place between the 14 and the 17 in October of 2021. One more time, David Moss de Ibiza Music Agency has worked with Joel Chriss Productions of New York to bring international jazz stars to the island.
El ambiente festivo comienza el jueves 14 October con una cena mcusical en Pikes Ibiza (only reservations). Contará con el Muriel Grossmann Quartetcon una actuación como invitada especial de la cabeza de cartel de Jazz Point del viernes, Alice Zawadski.
Programa del 2nd International Festival Jazz Point Ibiza:
Thursday, 14 October. 20:00 hrs.. Pikes Ibiza. Musical dinner The Muriel Grossmann Quartet con Alice Zawadzki.
Friday, 15 October. 21:00 hrs.. Can Ventosa. The Art Of The Trio. The Pere Bujosa Trio. The Alice Zawadzki Trio
Saturday, 16 October. 21:00 hrs.. Can Ventosa. The Art Of The Quintet. The Bill McHenry Quintet. Ariel Bringuez & Cuban nostalgia
Sunday, 17 October. 13:00 hrs.. Can Ventosa. Speaking Of Sounds
There is a Master Class in Can Ventosa ekl 16 October. Starting from the 12:00 hrs.. Con Alice Zawadzki, Bill McHenry, Pere Bujosa, Fred Thomas, Ariel Bringuez
Se ha programado un concierto gratuito de una banda local en Can Ventosa el Sunday 17 October at 13:00 hrs..
The opening on Friday 15 corre a cargo del Pere Bujosa Trio from Spain, con Pere al Stand Up Bass, Joan Terol on drums and Xavi Torres on piano. Pere Bujosa is originally from Mallorca and is a rising star in the music business. La segunda actuación del viernes es la de la conocida artista Alice Zawadzki de Inglaterra y su trío, with Misha Mullov-Abbado on Stand Up Bass and Fred Thomas on percussion. Alice has won numerous awards as a vocalist, violinist and composer, and his group brings a genuine and unique sound.
The Saturday 16 se abre la noche con el famoso saxofonista estadounidense Bill McHenry, que llega a la isla con su quinteto internacional: Estefanía Chamorro on drums, Kamaguchi mass on the bass, Anggie Obin on flute and Victor Carrascosa playing trumpet. Bill McHenry is considered as "one of the most distinctive voices of his generation" Ariel Bringuez & Cuban nostalgia, the second group of the night, tendrán a la multitud vibrando en sus asientos. Ariel es un saxofonista, Grammy Award-winning pianist and composer, and the quintet features Pablo Gutiérrez on piano, Israel Sandoval on guitar, Rubén Carles on double bass and Michael Olivera on drums.
FESTIVAL JAZZ POINT IBIZA 2021
Of the 14 to the 17 in October of 2017
Tickets from 25 euros en ibizamusicagency.com
Do you want to know the Ibiza culture and leisure agenda?
Ibiza-Click.com
IBIZA'S MOST VISITED CULTURE AND LEISURE SITE
The 2nd International Festival Jazz Point Ibiza takes place between the 14 and the 17 in October of 2021. One more time, David Moss de Ibiza Music Agency ha trabajado con Joel Chriss…