BARTOMEU MOVEMENT PARTY IN SAN ANTONI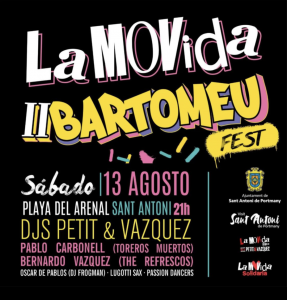 The Sant Antoni de Portmany City Hall resumes its Sant Bartomeu festivities with a full program of activities starting with the much-awaited La Movida Bartomeu party, a retro party starring the music of the years 80 and 90 Can Ventosa cultural center.
The Ayuntamiento de Sant Antoni, through the Department of Fiestas, celebrates as the beginning of its patron saint festivities of Sant Bartomeu one of the highlights of the program, a session of the popular party La Movida, created by Djs Petit and Vázquez.
This is the second edition of the quote, since the first Sant Bartomeu Fest or La Movida Bartomeu was celebrated in 2019 just before the pandemic.
The party is on the beach of s'Arenal de Sant Antoni and is celebrated from 21.00 hours until 03.00 hrs..
In addition to the Djs Petit and Vázquez, that will play well-known songs from the years 80 and 90 thought to sing, dance and enjoy, the party will feature two very special guests.
On the one hand, singer and actor Pablo Carbonell, leader of Los Toreros Muertos, who will sing four songs live, including his famous "My name is not Javier" and "My little yellow water". In addition, Bernardo Vázquez will also act, singer of The Refreshments, who will perform three of his best songs, including the hit "There is no beach here".
In addition, Madrid DJ Óscar de Pablos will also be playing at the beginning of the night, and the saxophonist Lugotti and the Passion Dance dance group will help to liven up the atmosphere.
There will also be food stalls., a charity shop with La Movida products in collaboration with AEMIF, gifts and many surprises.
La Movida Bartomeu Party
Saturday 13 in August of 2022
21.00 hrs.
Playa de s'Arenal de Sant Antoni
Artisans can participate for free
Do you want to know the Ibiza culture and leisure agenda?
Ibiza-Click.com
IBIZA'S MOST VISITED CULTURE AND LEISURE SITE
The Sant Antoni de Portmany City Hall resumes its Sant Bartomeu festivities with a full program of activities starting with the much-awaited La Movida Bartomeu party,…