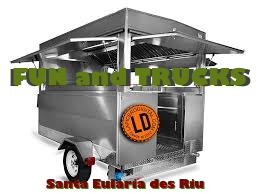 Saturday 8 February takes place in Santa Eulària des Riu the first edition of Fun & Trucks, an event that is part of the program of celebrations of the town and takes place from the 12:00 hours in the Tres Torres hotel and landscaped the new ride.
Attend a dozen trucks customizadas , the food trucks, to become establishments on wheels, It is offering various food, plus complementary activities for children, sports and music.
Smaller feature inflatables and workshops organized by the youth department of the Consistory, while the sports will take place an exhibition hockey. There will be a masterclass fitness on the slopes of the promenade and a competition of petanque.
There will be musical performances: Albert Oliva, Alfonso Morillas and the DJ Andres Medina. charanga the Tropezón It will also encourage the streets.
Companies participating with their trucks son Fan Burger, Pizza Cheff Entertainment, porter, La Vie on Rose, Sa Trugeta, Buganvilla, the Fermentistas, Unforeseen Food Project, Entrañame and Chocoparty.
FUN AND TRUCKS 2020
Santa Eulalia
Saturday, 8 February
Starting from the 12:00 hrs.
Ibiza-Click.com
IBIZA'S MOST VISITED CULTURE AND LEISURE SITE
Saturday 8 de febrero tiene lugar en Santa Eulària des Riu la primera edición de Fun & Trucks, un evento que forma parte del programa de fiestas de la localidad…