BLOOP INTERNATIONAL PROACTIVE ART FESTIVAL 2018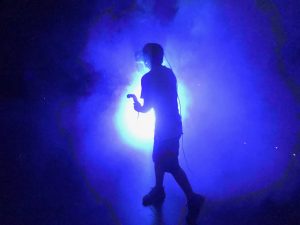 Editing 2018 of the Bloop International Proactive Art Festival It is the eighth and takes place from the day 23 of August up to the 9 September in the Port of Ibiza with a sample of interactive technological facilities.
14 artists along with those who have participated in the Open Air Gallery, outdoor murals Said Dokins, Spaik and Ino, AlfAlfA, complete the edition of this year's motto is Hope.

Like this, Ibiza Town hosts this new edition of Bloop International Art Festival Proactive with technological interventions in the port; exhibition of interactive installations and virtual reality in the Casal de Sa Riba; Bloop headquarters during this edition and an afternoon of art dedicated to children.
In addition, Sa Riba in the house, which will be open to the public from the day 23 in August of 19:00 to 22:00 hrs., you will find interactive pieces of the following artistes: the Spino, K24, Tranz Lasange, Pineapple Crocodile, Ramacca Silva and Daniel Kurniczak. In the same way, on the facade of the port of Ibiza you can enjoy the open exhibitions and sound installations of artists K24, Kaw and Tranz lasagne.
It has also organized an evening for children to enjoy art in space called Bloop Kids will take place on Paseo de Vara de Rey, the day 1 September.
Ibiza-Click.com
IBIZA'S MOST VISITED CULTURE AND LEISURE SITE
Editing 2018 Bloop International Proactive Art Festival is the eighth and takes place from the day 23 of August up to the 9 September in the Port…