THE NIGHT OF SAN JUAN 2021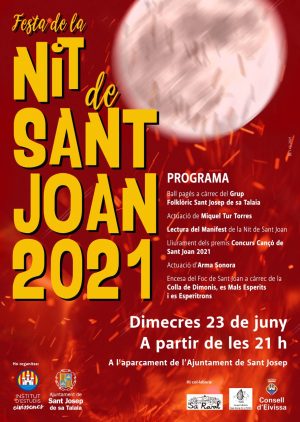 The Institute of Ibizan Studies (IEE) and the City Council of Sant Josep de sa Talaia organize the traditional Festa de la Nit de Sant Joan. Since the year 1971 This entity celebrates this magical night in an itinerant way in the different towns of the Pitiusas.
With reason 50 anniversary of the Festa de la Nit de Sant Joan has wanted to return to the town where it was celebrated for the first time. Like this, on Wednesday 23 of June in the Sant Josep Town Hall car park starting at 21:00 hours they have an appointment with a festive program that opens with peasant dance, by the Grup Folklòric Sant Josep de sa Talaia and which continues with the musical performances of Miquel Tur Torres from Formentera, winner of the Sant Joan Song Contest 2020, to make way for the Ibizan rock band Arma Sonora, also contestant and participant of the CD 'Foc. St. John's songs.
AS is traditional, during the party the manifesto will be read. The Sant Joan Song Contest Awards will also be presented 2021, a contest of original songs in Catalan convened for the second consecutive year last February. To finish, the fire will be lit by the Colla de Dimonis, es Evil Spirits and es Spirits.
Thus, the Institut d'Estudis Eivissencs rebukes this celebration that had to be canceled last year due to COVID-19. The capacity will be limited and the sanitary measures in force must be respected, such as the use of a mask and the maintenance of a safe distance between attendees.
Do you want to know the Ibiza culture and leisure agenda?
Ibiza-Click.com
IBIZA'S MOST VISITED CULTURE AND LEISURE SITE
The Institute of Ibizan Studies (IEE) and the City Council of Sant Josep de sa Talaia organize the traditional Festa de la Nit de Sant Joan. Since the year 1971 this entity…