THE DEATH OF GUILLEM IN CAN JERONI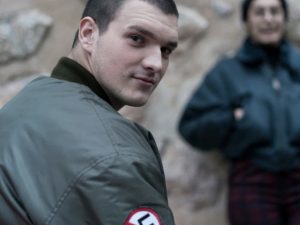 The death of William is a drama directed by Carlos Marquet-Marcet that is screened on Monday, 12 of October to las 20:00n joras at the Can Jeroni Cultural Center, in Sant Josep de sa Talaia. Starring Pablo Molinero, Gloria March, Jordi Ballester, Jany Collado, Belén Riquelme, Mar Linares and Bárbara Calatayud, recreates the death of a young Valencian anti-fascist.
It is a co-production of À Punt Mèdia and Televisió de Catalunya, and tell, among others, with the participation of the Institut Valencià de Cultura (IVC), the Catalan Institute of Cultural Enterprises (ICEC) and the Radio and Television of the Balearic Islands.
The death of William tells us how 11 April of 1993, Guillem Agulló, a boy from 18 years, anti-fascist and anti-racist, is killed with a stab in the heart by a far-right group. A parallel trial attempts to criminalize the victim. Lawyers and the media reduce everything to a simple fight over a girl and present Guillem Agulló as a violent young man. Shattered, Guillermo and Carmen, His parents, they will fight for the murder not to be misrepresented while trying to rebuild their family.
Cinema:
The death of William
Monday, 12 in October of 2020
20:00 hrs.
Cultural Center Can Jeroni
Sant Josep de sa Talaia
Free entrance until full capacity
Do you want to know the Ibiza culture and leisure agenda?
Ibiza-Click.com
IBIZA'S MOST VISITED CULTURE AND LEISURE SITE
La mort de'n Guillem is a drama directed by Carlos Marquet-Marcet that is screened on Monday, 12 of October to las 20:00n joras at the Can Jeroni Cultural Center, in…