ES PUIG DEN SAIG, WARM SALE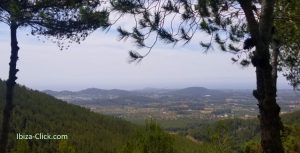 The Morna area is one of the big four sellss into which the town of Sant Carles de Peralta has traditionally been divided, in the municipality of Santa Eulària des Riu. Es Puig den saig, of over 300 meters high is located in this mountainous massif.
All the floor of the sale Morna is classified as rustic and the highest part is protected because it is part of an ANEI: Natural Area of ​​Special Interest of the Upper Ibiza.
Josep Joan i Marí, neighbor of the area and scholar of local customs, tells us about the many anecdotes that are told about this area located in the northwest of the island of Ibiza. The exploitation of agricultural farms was usual with the sowing of cereals and trees such as the orange tree, almond and carob tree combined with activities such as livestock, work related to the forest, such as making coal or lime, was also common. But that changed with the arrival of mass tourism on the island..
A justice official is said to (a saig) He appeared in the area because he had to execute a sentence of seizure of a property when its owner, in Pep, he was working in the lime kiln and in an outburst, out of his mind, pushed it into the oven where it burned. Pep Xomeu, also tells us the story of Pep's ass or that of the last owner of the Can Forn den Saig, n'Eulària… Of all this, has made a song that serves as a musical accompaniment to the audiovisual document offered by the Internet program Illes Pitiüses, produced by Eivisual.
Pityuses
Ibiza-Click TV
The Morna area is one of the four major venues into which the town of Sant Carles de Peralta has traditionally been divided., in the municipality of Santa…