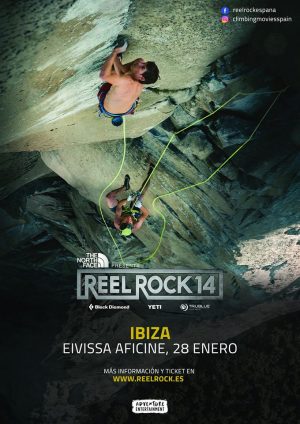 People fond of mountain climbing Ibiza are in luck. The Reel Rock Film Tour It is one of the biggest celebrations climbing worldwide. On Tuesday, 28 January we have the chance to watch a movie premiere in Eivissa Multicines.
En The High Road, the powerful and bold Nina Williams proves itself in some of the problems and difficult bloc highest ever escalations. In the U.S, climbers collide with a conservative community of coal mining in rural Utah. Y en The Nose Speed Record, Tommy Caldwell and legends Alex Honnold fighting the dirtbags Yosemite, Jim Reynolds y Brad Gobright, in a high-stakes race.
Josh Lowell and Peter Mortimer are the founders of Reel Rock. Produced and directed films from climbing and acvcenruras 2006. His work has appeared on NBC, NPR and The New York Times and are winning an Emmy Award for Sports and dozens of awards at international film festivals. Now, You have the opportunity to see their work on the big screen in Eivissa Multicines.
Rell Rock Other events in Spain:
30 January, at 19:00 hours Reel Rock 14 in Santander
4 February, at 20:30 hrs., Reel Rock 14 in Valencia
6 February, at 19:00 hrs., Reel Rock 14 in Gijon.
Reel Rock Film Tour
Tuesday, 28 in January of 2020-01-10
20:20 hrs.
Multicines Eivissa
Ibiza
Ibiza-Click.com
IBIZA'S MOST VISITED CULTURE AND LEISURE SITE
People fond of mountain climbing Ibiza are in luck. The Reel Rock Film Tour is one of the biggest celebrations climbing worldwide. On Tuesday, 28 of…