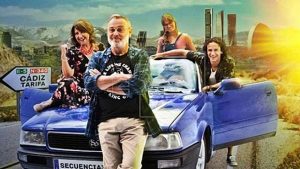 Saturday, 17 April takes place the representation of the play Blablacoche at the Can Ventosa Cultural Space, in Ibiza. A comedy by Eduardp Galán, with touches of trhiller and directed by Ramón Paso. Starring Pablo Carbonell, Victor Ullate-Roche, Ania Hernández and Soledad Mallol
Blablacoche tells us about Ramiro, military and divorced, who travels with his car to Cádiz to see his two daughters. Nat, a young unemployed psychologist, wants to surprise his partner. Max, goes to record a low-budget movie and rehearses his role to live the character. Magina wants to be on time for the birth of her first grandchild. A journey that begins in a very fun way, is complicated by the appearance of a dangerous serial killer. A fun and exciting trip to Ithaca.
Theatre
"Blablacoche"
Saturday, 17 April of 2021
20:00 hrs.
Can Ventosa Cultural Space
Ibiza
Price: 18 EUR
Purchase of tickets in the cultural center and in:
culturaentradesonline.eivissa.4tic.com/par-public/rest/entrada/2701451
Do you want to know the Ibiza culture and leisure agenda?
Ibiza-Click.com
IBIZA'S MOST VISITED CULTURE AND LEISURE SITE
Saturday, 17 April takes place the representation of the play Blablacoche at the Can Ventosa Cultural Space, in Ibiza. A comedy by Eduardp Galán, with touches…