ALBERTO SAN JUAN IN CAN VENTOSA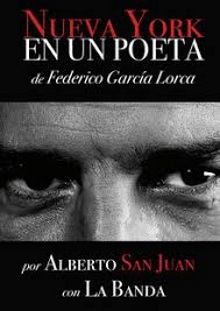 El actor madrileño Alberto San Juan actúa en el Espai Cultural Can Ventosa el sábado 12 December to the 20:00 horas en la representación de la obra de teatro New York into a poet, creation of the author, inspirada en la figura del gran poeta Federico García Lorca.
The band, he also accompanies Alberto San Juan on stage. Se trata de un cuarteto compuesto por guitarra, double bass, battery, sax and clarinet. In fact, the show begins with a musical prelude, in charge of this training, composed of fragments of the jazz pieces that Federico García Lorca discovered in New York clubs in that year 29. Then, the voice of Ian Gibson introduces the lecture and Frederick, played by Alberto San Juan, appears on stage for the viewer to travel, for just over an hour, from Granada to New York and Havana.
How could it be otherwise, the event will have all current safety regulations. The distances between seats will be maintained and spectators must use the mask at all times. In addition, At the entrance to the center, the temperature of all attendees will be taken and they must make use of the hydroalcoholic gel for the hands that will be available.
Tickets are already on sale at the price of 15 euros and can be obtained at the Can Ventosa box office and through the website of the Ibiza Town Hall (eivissa.es).
Theatre
New York into a poet
Saturday, 5 December of 2020
20:00 hrs.
The Can Ventosa Cultural Space
Ibiza
Price: 15 EUR
Do you want to know the Ibiza culture and leisure agenda?
Ibiza-Click.com
IBIZA'S MOST VISITED CULTURE AND LEISURE SITE
El actor madrileño Alberto San Juan actúa en el Espai Cultural Can Ventosa el sábado 12 December to the 20:00 horas en la representación de la obra de teatro Nueva York en…