SLAUGHTER RICE IN Ibiza Chef tv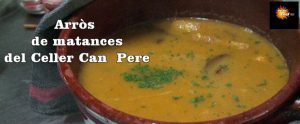 From our gastronomic section, Ibiza Chef tv we offer you the recipe for "Arròs de matances" from the restaurant celler Can Pere, in Santa Eulària des Riu… Ahora, we are at the time of the pig slaughter, It is very appropriate. Owner and chef, Paco, It shows the steps and warns us that it is a dish that requires a lot of patience.
To make a succulent recipe for slaughter rice , first, olive oil poured into the pan where pork is introduced (ribs, skinny, pancetta ...) and chopped chicken. When it is lightly browned, paprika is added, garlic and saffron. Some people also include pigeon (but not in this case).
In parallel form, a stir-fry for a "chopped" with the following ingredients is done: Chicken's liver, ñora, it, Pepper, will, tomato, olive oil, peppers, parsley and saffron. Once sofrito, Paddles with túrmix.
It added the "bite" to the main pan, plus some crushed tomatoes. Moves to a pan where chicken broth is poured (although water would be sufficient). Once it is boiling, rice added and allowed to boil for 13 minutes. Mushrooms are added (They are seasonal), some beans and a cinnamon stick. A little chopped parsley and ... ready to serve.
Un arròs de matances delicioso!!!
good profit!
Ibiza-Click.com
The culture and Ibiza most visited entertainment portal
From our gastronomic section, Ibiza Chef tv we offer you the recipe for "Arròs de matances" from the restaurant celler Can Pere, in Santa Eulària des Riu… Ahora, que estamos en la…