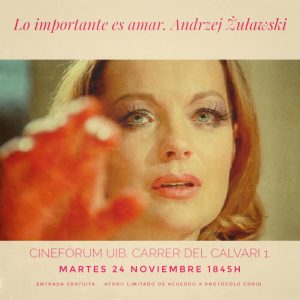 Andrzej Zulawski dirige The important thing is to love, a romantic drama that is screened in the Cinefòrum cycle on Tuesday 24 November to the 18:45 hrs.. Joaquím Seguí presents the event. Cinema within a cinema that had great public and critical success. Starring Romy Schneider who won a César Award for Best Actress.
This melodrama tells us how Servais Mont is a freelance photographer who works for some gangsters taking compromising photos. One day he meets Nadine Chevalier, a married actress who makes a living acting in crappy low-budget movies.
The polish director Andrzej Zulawski (1940 -2016) belongs to the generation of Polansky and Kieslowski. Cobró importancia a raíz de cintas como The important thing is to love (1975),'Possession (1981) and Love Braque (1985), always moving between France and his native country and always turning his back to the conventions of the most commercial cinema. Ex-husband of French actress Sophie Marceau, 26 years younger than him, había mantenido un largo silencio entre su penúltima película Fidelity (2000), starring his wife, and his latest film, Cosmos (2015), an adaptation of the novel by Gombrowicz, published in France in 1965.
In addition, the Polish filmmaker will always be linked to the great work he managed to capture from three great actresses: the aforementioned Marceau and Romy Scheider and Isabelle Adjani.
Cineforum Cycle
The important thing is to love
It presents: Segui Joaquím
Tuesday, 24 November of 2020
18:45 hrs.
Headquarters of the UIB
C / Calvario, 1
Ibiza
Free entrance until full capacity.
Do you want to know the Ibiza culture and leisure agenda?
Ibiza-Click.com
IBIZA'S MOST VISITED CULTURE AND LEISURE SITE
Andrzej Zulawski dirige Lo importante es amar, a romantic drama that is screened in the Cinefòrum cycle on Tuesday 24 November to the 18:45 hrs.. Presenta el acto Joaquím…