TONY TIXIER TRIO CONCERT IN CALÓ DE S'OLI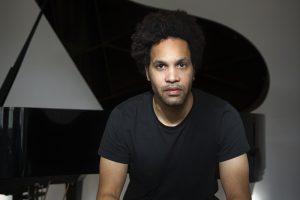 El Tony Tixier Trio, uno de los grupos de jazz más importantes a nivel internacional, ofrece un concierto en el auditorio de Caló de s'Oli de Cala de Bou.
El Ayuntamiento de Sant Josep de sa Talaia organiza un concierto único con uno de los grupos más potentes del jazz internacional, el Tony Tixier Trio, agrupación formada por tres músicos de gran prestigio: Tony Tixier, Nicolas Moreaux y Francesco Ciniglio.
El concierto es el jueves 30 June 2022 at 20.30 horas en el Auditorio de es Caló de s'Oli, in Cala de Bou, y ha sido posible gracias a la intermediación del batería ibicenco Javi Roig, del grupo Fuel Pressure Regulator, que ha permitido que este famoso trío de jazz haga una parada imprevista en la isla en medio de su gira por Europa, aprovechando su única noche libre en su apretado programa de actuaciones en festivales y salas de jazz de todo el continente.
Tony Tixier (Montreuil, France, 1986) está considerado uno de los grandes maestros mundiales del piano, se formó en piano clásico y a los siete años ya ofrecía conciertos. Ha publicado siete discos en solitario, con sus propias formaciones, y más de veinte acompañando a artistas consagrados de jazz de todo el mundo. Ha actuado en festivales, locales y programas de todo el mundo.
Nicolas Moreaux (France, 1973) es uno de los contrabajistas más prestigiosos del circuito de jazz francés. Descendiente directo del gran compositor Hector Berlioz, ha publicado tres discos como líder de banda y otros tres como co-líder. On the other hand, Francesco Ciniglio (Nápoles, 1989) to the battery, se formó en Italia y Nueva York, ciudad donde reside y ha compartido escenario y giras con grandes artistas del género.
La entrada al concierto es libre hasta completar aforo.
Concierto de Tony Tixier Trio
Thursday 30 June 2022
20.30 hrs.
Caló de s'Oli Auditorium
Carrer Málaga s / n, Cala de Bou
Gratis hasta completar aforo
Do you want to know the Ibiza culture and leisure agenda?
Ibiza-Click.com
IBIZA'S MOST VISITED CULTURE AND LEISURE SITE
El Tony Tixier Trio, uno de los grupos de jazz más importantes a nivel internacional, ofrece un concierto en el auditorio de Caló de s'Oli de Cala de Bou. The…