WORKSHOP ON NEW TECHNOLOGIES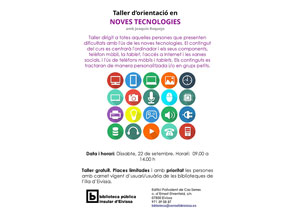 ¿Quieres aprender a defenderte con el ordenador, el teléfono móvil, la tableta? This Saturday 22 September, la Biblioteca pública insular de Ibiza, in Greenhouses, acoge un taller de orientación en nuevas tecnologías, impartido por Joaquín Requejo.
Este taller está dirigido a todas aquellas personas que tienen dificultades con las nuevas tecnologías y quieran familiarizarse y orientarse en su uso. El contenido del curso se centrará en el ordenador y sus componentes, el teléfono móvil, la tablet, el acceso a internet y las redes sociales. Los contenidos se tratarán de manera personalizada y en grupos pequeños.
El taller es gratuito y de plazas limitadas. Tienen prioridad para apuntarse aquellas personas que tengan el carné vigente de usuario de las bibliotecas de la isla de Ibiza. El curso se desarrollará entre las 09:00 and the 14:00 horas en la Biblioteca pública insular de Eivissa, situada en el Edificio Polivalente de Cas Serres -calle Ernest Ehrenfeld, s / n.
Ibiza-Click.com
IBIZA'S MOST VISITED CULTURE AND LEISURE SITE
¿Quieres aprender a defenderte con el ordenador, el teléfono móvil, la tableta? This Saturday 22 September, la Biblioteca pública insular de Ibiza, in Greenhouses, acoge un taller de…