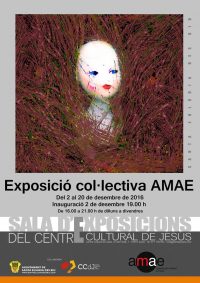 The Friday, 2 of December, at 19.00 hours collective exhibition opens AMAE (Association multiArt Ibiza) in the cultural center of Jesus. The exhibition will be open until 20 December in time 16.00 to 21.00 hours Monday through Friday.
For this exhibition, participants are: Aida Miró, Ana Mendo, Ana Jakimow, Adolfo Aymat, Albena D. Todorova, Andrés Herráez, Antonia Ribas, Antonia Martin, Antonio arc,Antonio Mendoza, Begoña Gorrotxategi, Carmen Sanahuja, Celia Jimenez, Caroline Goffinet, Caroline, Carlos Icardi, Charlotte Mensforth, Daniel Marí Planells, Elvira Escandell, Eva Alcaide, Eustaquio Carayol, Guillermo Gil, Gustavo Eznarriaga, Helene Beilin, Fine Escandell, Jaime Comas, Jef Vanderaerden, Jesus Albarran, Jessica Sturgess, Josefina Torres, Juan Blanco, Julia forge, Juan C. Merino Zuazo, Luís Cabezudo, Lydia Cardona, Manel Orti Capellino, Maria Riera, Marble, Marga Escandell, Mario Stafforini, Marpola, Martha Dawa, Martina Falk, Mauro García Socuéllamos, Miguel Farriol, Miguel Á. Garcia, Nadezhda T.Tsanova, Patricia Boned Sáez, Rocio Fernandez Fraile, Sonia Esparcia Martínez, Toni Montero, Veronica Gerbasi, Vicente Torres Noguera.
COLLECTIVE EXHIBITION
ARTISTAS DE LA AMAE
Of the 2 to the 20 December de2016
Schedule: of 16.00 to 21.00 hrs.
Jesus cultural center
Ibiza-Click.com
The cultural and entertainment portal most visited Ibiza
The Friday, 2 of December, at 19.00 hours collective exhibition opens AMAE (Association multiArt Ibiza) in the cultural center of Jesus. The exhibition is open…