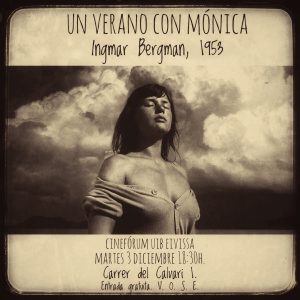 On Tuesday, 3 of December, at 18:30 hrs., within Cinefórum cycle is projected in original version Bergman's romantic drama, Summer with Monica. When the light of this great Swedish filmmaker went out left us not only great memories existentialists and reflective, but also works like this ...
Tape, of 1953 portrays a modern city at that time, Stockholm, and a reflection on the maturity and the passage of time, but little of that matter were it not, first of all, the carnal and physical reconstruction of a meeting of people who only sprout in summer. The protagonists are the luminous erotic presence of Harriet Andersson as Monika and lovesick young standpoint Lars Ekborg. Harry Lund, of 19 years, He works in a warehouse of glass and porcelain. Monica works near there, a girl from 17 cheerful and happy years. She starts a conversation with him to see him in a cafe. After a while they fall in love. Both are harassed in their employment because of their age. Monica leaves his house after an argument with his father and Harry leaves his job after an argument with his boss. With nothing to tie them to the city, take the small boat to the archipelago Harry to spend weeks alone.
"I've never done a less complicated film Summer with Monica. We simply took off and we roll "
Ingmar Bergman
Cineforum
Summer with Monica (VOSE)
Tuesday, 3 December of 2019
18:30 hrs.
UIB
C / Calvary 1
Ibiza
Entry libre
Ibiza-Click.com
IBIZA'S MOST VISITED CULTURE AND LEISURE SITE
On Tuesday, 3 of December, at 18:30 hrs., within Cinefórum cycle is projected in original version Bergman's romantic drama, Summer with Monica. When the…