ITS COUNTRIES OF CALA D'HORT ARE IMPROVING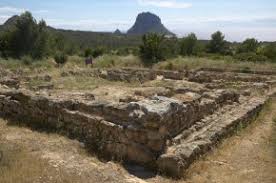 Ses Paisses de Cala d'Hort it is an archaeological site where the astronomical observatory and the extension of the Ethnographic Museum are located. From the Department of Culture, Education and Heritage of the Consell Insular d'Eivissa a series of interventions have been carried out to reactivate and energize the area.
During the first semester of 2020 improvements have been made in the country house, extension of the Ethnographic Museum, where moisture has been repaired, gutters and traditional kiln have been repaired and painted. In the same way, A recycled wooden footbridge has been installed to the Punic-Byzantine necropolis that will allow visitors to observe the different hypogea of ​​this necropolis. This archaeological site is open to the public from Tuesday to Sunday of 10:30 to 13:30 hrs..
On the other hand, The new telescope has been installed in order to support the astronomical observation nights that are organized by the Eivissa astronomical group for the general public. A platform has also been set up to locate the telescope on observation nights and work is being done on the publication of an astronomical guide.
La intención es dar un impulso a este lugar tan relevante por su valor histórico y patrimonial que ahora se puede visitar con más comodidad y las personas aficionadas a la astronomía tienen así nuevos alicientes para realizar observaciones
Other improvement actions have taken place in the center of ses Païsses de Cala d'Hort and in the Torre des Carregador (in the Red Salt).
Ibiza-Click.com
IBIZA'S MOST VISITED CULTURE AND LEISURE SITE
ses Païsses de Cala d'Hort es un conjunto arqueológico donde se ubica el observatorio astronómico y la extensión del Museo Etnográfico. From the Department of Culture, Educación y Patrimonio del…